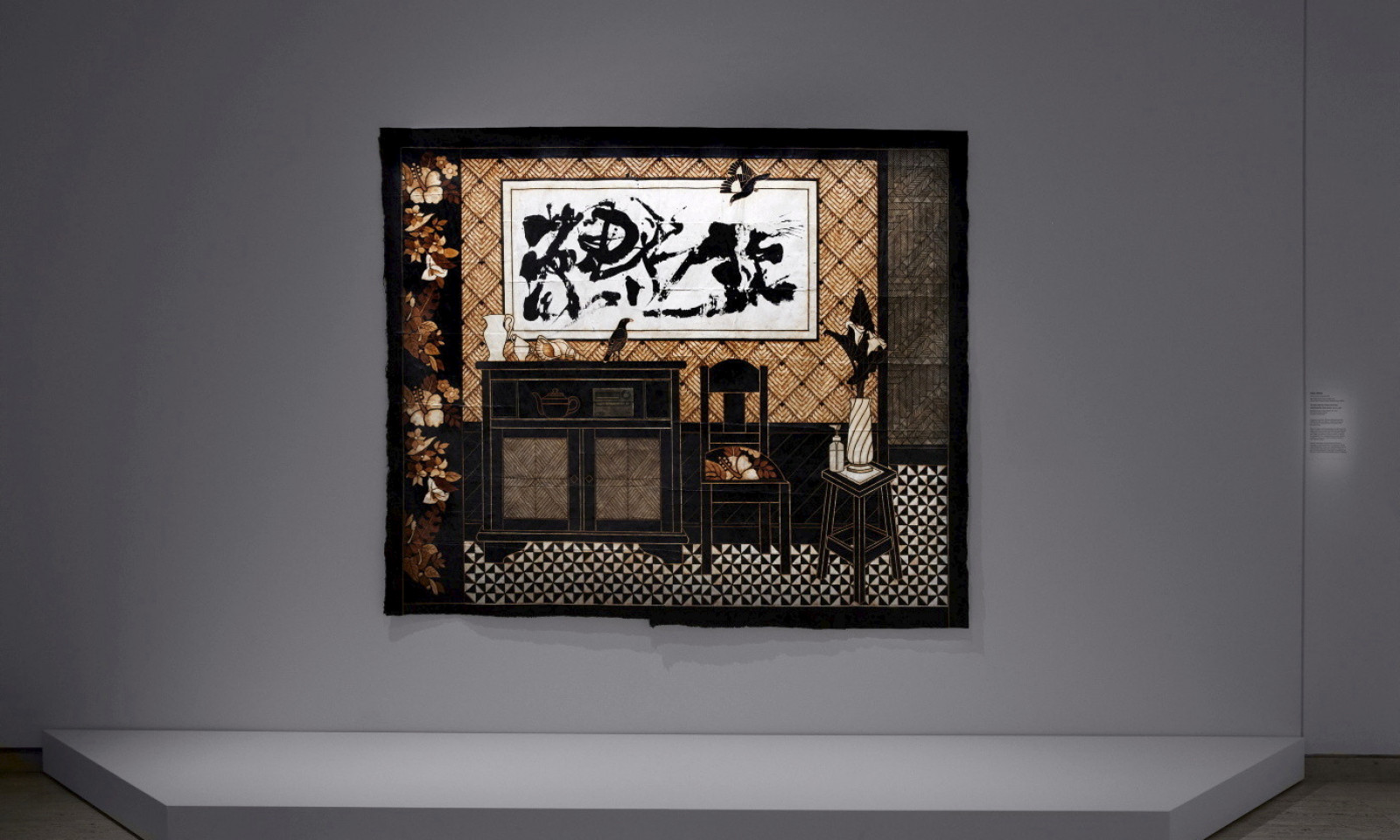 Robin White was commissioned to respond to the work of Henri Matisse in the Pacific by the Art Gallery of New South Wales for the exhibition Matisse Alive.
Working independently and collaboratively with long-time collaborator and friend Ebonie Fifita and her family, Robin produced four large-scale ngatu and masi works.
Two masi works, Soon, the tide will turn and To see and to know are not necessarily the same, were subsequently acquired by the AGNSW.
"'I've conceived all of the works as conversations—between Matisse and myself, and between myself and other people whom I introduce him to. In Soon, the tide will turn, I'm imagining what might be the conversation in the next world between Matisse and Peter McLeavey and Robert Louis Stevenson. What would they say to each other about their relationship to the Pacific?'
Robin herself is very much a part of that conversation too, with an adaptation of her 1970 screenprint Mangaweka hanging on the wall behind. The wall hangings and mats belong equally to Matisse's art and to Polynesian tradition.
The chaise longue, she says, is lifted from Peter McLeavey's Wellington gallery; the hat is Matisse's, the pattern on the back wall is from one of the rooms in Stevenson's 'Valima', his famous house in Samoa. 'The journal on the floor is mine. Or it could be anybody's.' Contemporary realities are signalled by the hand-cleanser-dispenser (referring to the Covid pandemic), which is given an almost religious significance, placed on the mantelpiece beside a conch shell and between two lamps reminiscent of those painted by Colin McCahon.
The title Soon the tide will turn came from a letter Peter McLeavey wrote to Robin during the early 1990s, when she was worried about how the family were going to make ends meet living on Tarawa. Her gallerist noted that the New Zealand public had come to expect 'ikons of place' from White, which made her 'offshore' works hard to place. The Pacific, at that time, felt to most New Zealanders like an alien territory, he rightly implied.
Since then, that situation has changed dramatically, with Robin's work not only reflecting but also helping to advance a reconfiguration of the Pacific/Oceanic reality, with Aotearoa/New Zealand as an integral and vital component." – extract from Gregory O'Brien's catalogue essay
Related Artist