Peter McLeavey started dealing contemporary New Zealand art in 1966, from his flat on The Terrace, Wellington.
"I thought I'd ring Toss and Colin and get them to send down a few paintings and see what happened," Peter said, recounting how he started out as an art dealer. He placed an ad to this effect in the Evening Post and started to sell paintings. His first sale was a landscape work by MT Woollaston, which sold for 60 guineas, from his gallery-cum-flat on the Terrace.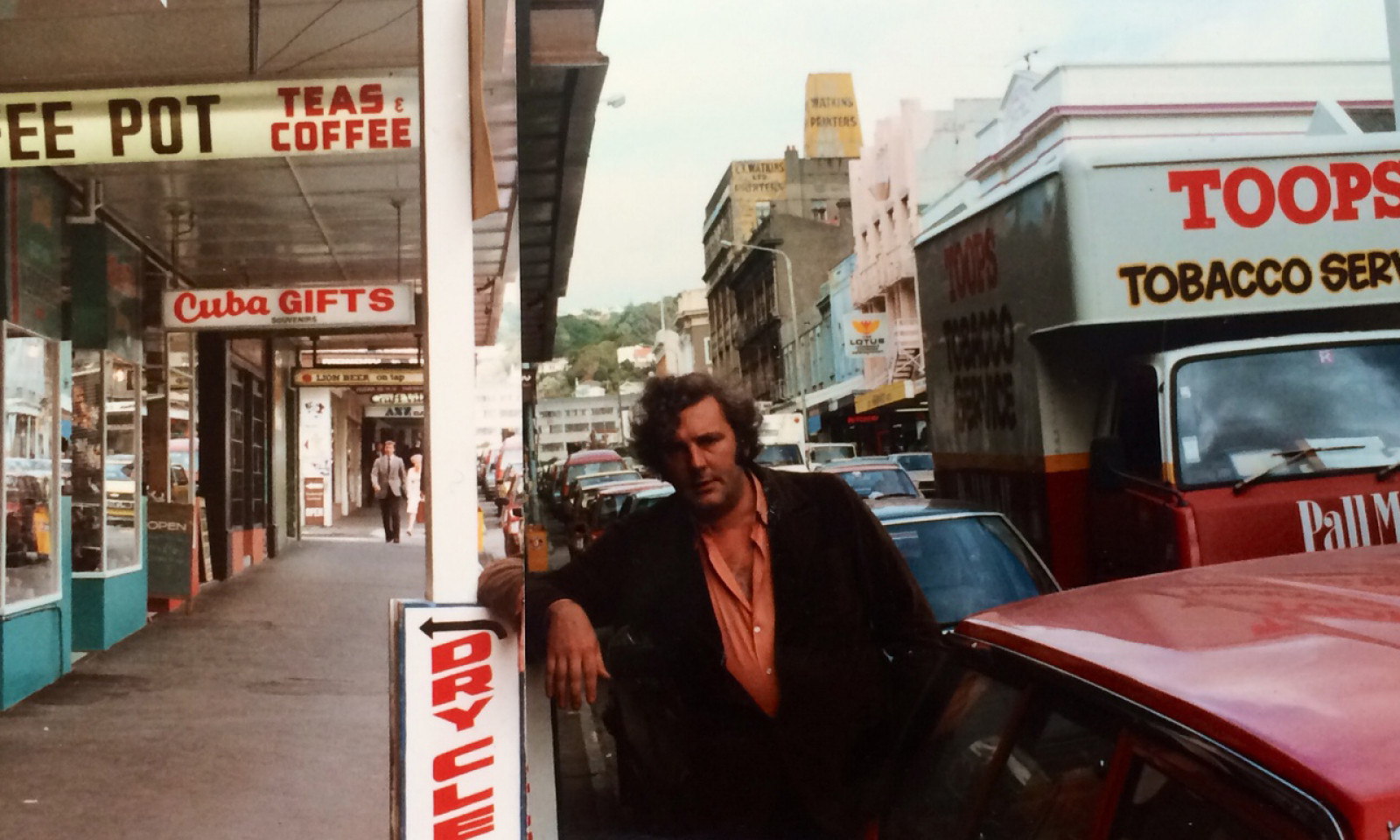 Alan Maddox outside the Peter McLeavey Gallery in Cuba Street, 1985.
In 1968 he moved the gallery to its current spot at 147 Cuba Street, where it still sits. During this time he has held more than 560 exhibitions.
When he moved to Cuba St he began working with Gordon Walters, Michael Illingworth, Colin McCahon, Milan Mrkusich, Michael Smither, Ian Scott, Pat Hanley, Ray Thorburn, and MT Woollaston. Highlights from the first year included Colin McCahon "Exhibition of the Northland Panels", Don Driver "Paintings and Constructions", Gordon Walters "Paintings" and Barry Brickell "Pottery".
Peter's reason for setting up a gallery in Wellington — not Australia, England or Europe — was to contribute to the visual culture of New Zealand, aptly alluded to in his 1998 show "What We Do Here". He wanted to sell art that was about this country, this place, that tells our stories.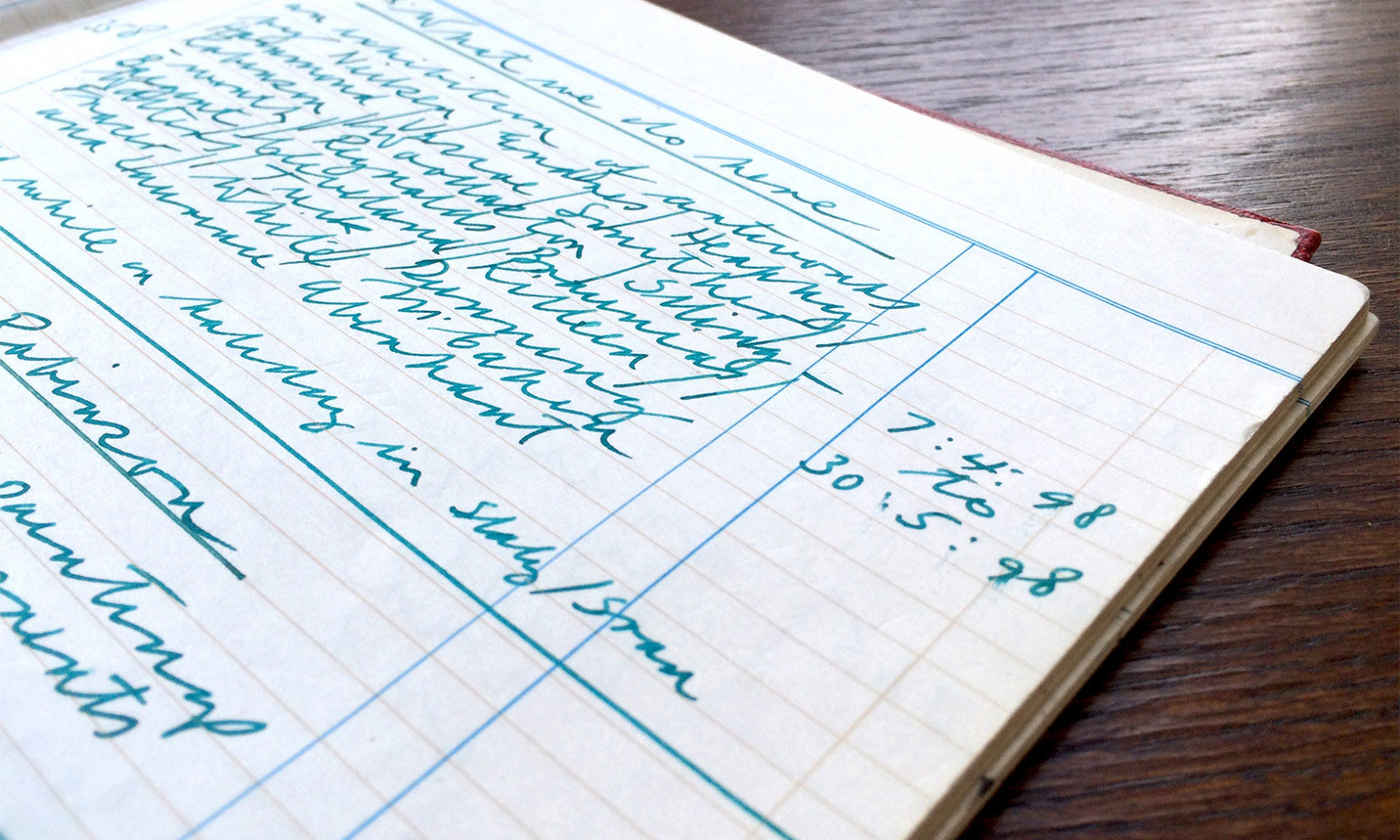 The 1998 exhibition "What We Do Here", listed in Peter McLeavey's exhibition register.
His commitment to contemporary art in New Zealand was because "there wasn't any Prado in this neck of the woods. There wasn't any Bayreuth on the other side of the Hutt Valley. There was no Met here". The role of the gallery was to expose the culture, and to feed and nourish the public.
The gallery opened in the late 1960s, a time of massive social change when New Zealand was establishing its own voice as a nation. Peter was committed to creating an intellectual and cultural life that was unique to this place: "I'm selling my dream of New Zealand. I have my reading of New Zealand culture, and I frame everything I sell within that".
Peter McLeavey, and his contribution to the art world, were the subject of the 2010 documentary film The Man in the Hat, directed by Luit Bieringa with cinematographer Leon Narbey, interspersed with readings from Peter's archives by Sam Neill.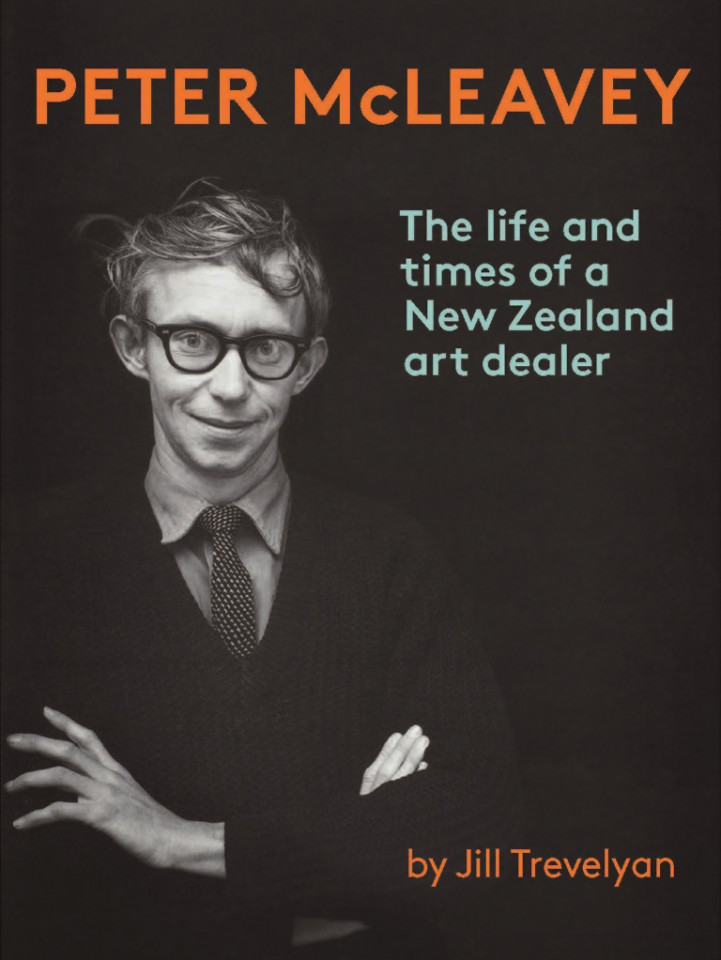 Jill Trevelyan's biography, Peter McLeavey: the life and times of a New Zealand art dealer.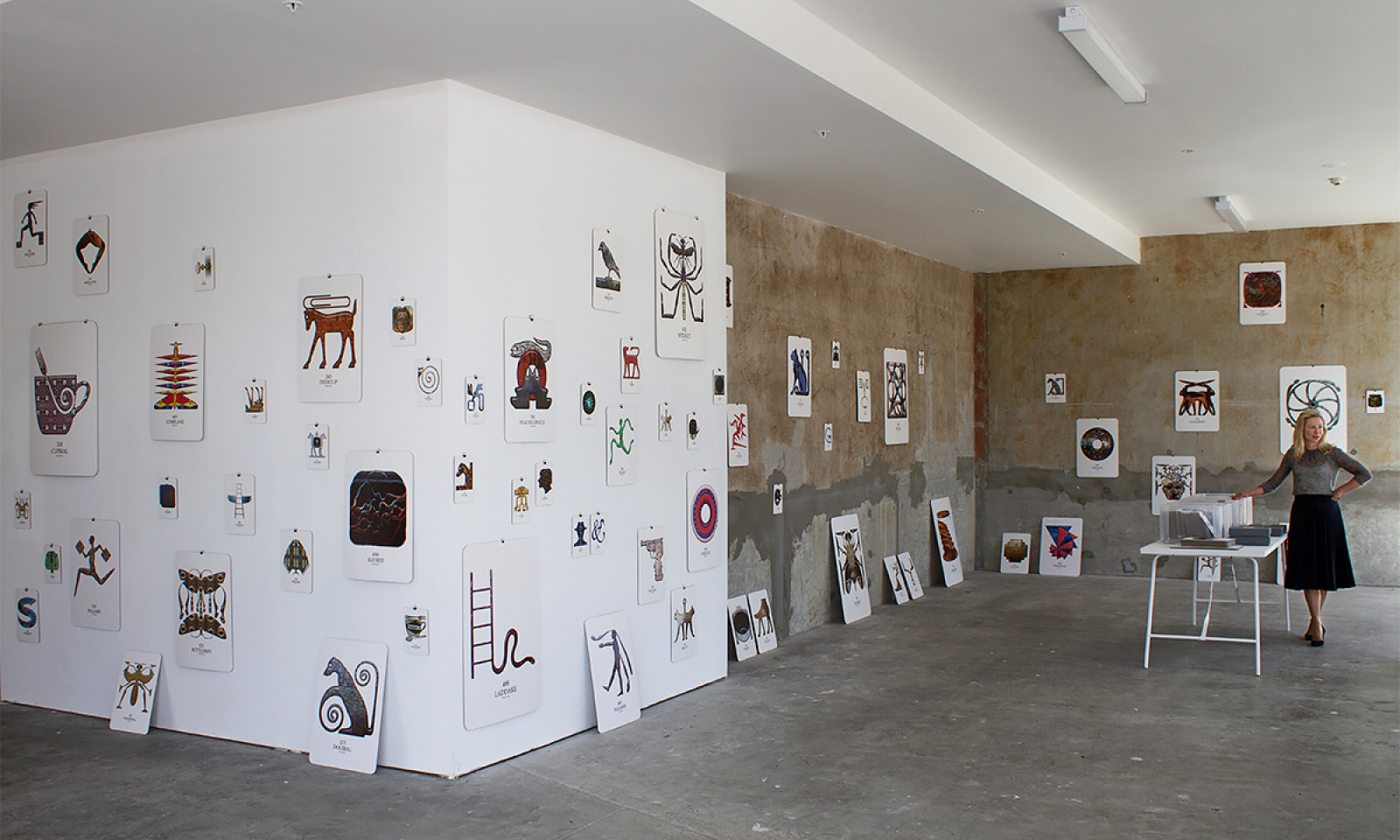 Olivia McLeavey in the Pop Up gallery in Webb Street.
In 2011, Peter moved into semi-retirement, and his daughter Olivia McLeavey returned to Wellington to take over management of the gallery. Olivia is working to build and expand on the gallery's rich heritage.
Building on this vibrant legacy, Olivia has developed an online presence for the gallery, via the internet, Facebook, and Instagram — opening up the Peter McLeavey Gallery experience to people at the touch of a button.
In July 2014, Olivia opened the temporary Peter McLeavey Pop Up Gallery at the top of Cuba Street. The vision for this space was to transplant the strong values of the gallery into a contemporary context. The Pop Up gallery featured a number of rare works from international artists like Barbara Kruger and Julian Schnabel, along with a younger generation of New Zealand artists such as Andrew Barber, Richard Killeen, Yvonne Todd and Ava Seymour. The large industrial space also allowed for the introduction of performance works in the space by the young performance artist Zahra Killeen-Chance and photographer Solomon Mortimer.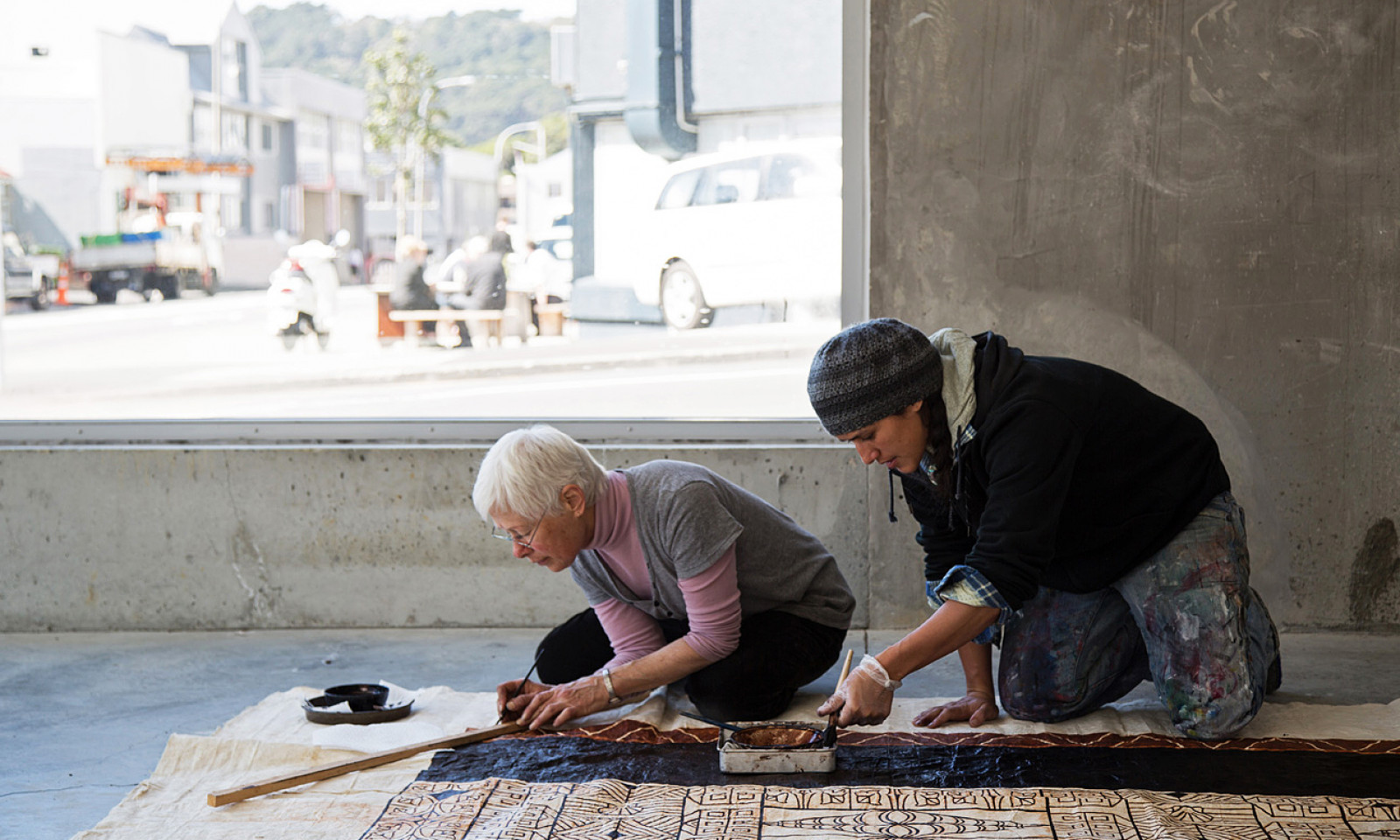 Robin White and Ebonie Fifita working in the Peter McLeavey Pop Up Gallery space.
During its opening at the top of Cuba Street, the Peter McLeavey Pop Up gallery functioned for a week as an open studio for a project led by Robin White, in collaboration with Ebonie and Ruha Fifita.
In Tongan village life, Tapa cloth is prepared in an open environment in the village, so people can come, watch and engage. We were curious to see if we could transplant this idea into an urban context. Two young Tongan artists turned the gallery space into a working studio with an open door to the street, while they worked to prepare a Tapa cloth. It allowed people to watch, come in ask questions, and stimulated debate. 
The gallery remains committed to the "what we do here" ethos of art that tells New Zealand stories. It has an exciting exhibition programme featuring New Zealand artists, such as Laurence Aberhart, W D Hammond, Robin White, Warren Viscoe, Gary Baigent, Toss Woollaston, Ava Seymour, Yvonne Todd, Mark Braunias, Darryn George, Ben Cauchi, Octavia Cook, and Peter Robinson. The Peter McLeavey Gallery also exhibits younger New Zealand artists, such as Nick Austin, Andrew Barber, Oleg Polounine, Zahra Killeen-Chance, and obsessive amateur photographer Gilbert Melrose.
Contact
Tel:
021 248 4276
Email:
Olivia McLeavey
147 Cuba Street,
Wellington,
New Zealand
Show on Google Maps
PO Box 11052,
Manners Street,
Wellington 6011
Wednesday–Friday 11–5,
Saturday 11–4,
Or by appointment
Artists